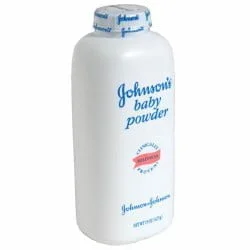 Mesothelioma has been known for decades to be the signature lethal disease caused by inhaling microscopic asbestos fibers into the lungs.  In fact, it has been well documented in Navy shipyard workers, underground miners, building construction and other such endeavors.  But now, with the discovery of asbestos in talculm powder, the very thing that women and babies use to keep themselves feeling fresh and clean is now the subject of the deadly disease.  And at the center of the controversy is Johnson & Johnson's Baby Powder.
Nearly 12,000 lawsuits have been filed across the country against Johnson & Johnson alleging that the company's baby powder not only has the deadly fibers, but that the company has known for years.
It has been known for decades that asbestos and talc often occur together in the earth, but J&J has always denied that their baby powder contains any asbestos.
But thanks to unrelenting plaintiffs' lawyers, who refused to accept J&J's denials, the truth is finally starting to surface, and surface big it is.
This past week Reuters published an in-depth and well-researched article entitled, "Special Report: J&J knew for decades that asbestos lurked in its baby powder."  The report, which carefully combed through countless internal documents and depositions of key individuals – all of which occurred and was accessible because of the ongoing litigation – concluded that from at least 1971 to the early 2000's the company knew that their product would sometimes test positive for asbestos.  The report reads in part:
A Reuters examination of many of those documents, as well as deposition and trial testimony, shows that from at least 1971 to the early 2000s, the company's raw talc and finished powders sometimes tested positive for small amounts of asbestos, and that company executives, mine managers, scientists, doctors and lawyers fretted over the problem and how to address it while failing to disclose it to regulators or the public.
Today, lawsuits are proceeding against the company for mesothelioma, and also ovarian cancer, which has been linked to asbestos for decades in the scientific literature.
Juries are getting angry, and lawsuits are giving the public the rightful disclosure they deserve.
Earlier this year in St. Louis, a jury returned a verdict of $4.69 billion for 22 plaintiffs who contended their ovarian cancer was caused by Johnson & Johnson's baby powder.  The verdict included a billion plus dollar punitive verdict, which serves to "punish" defendants for their conduct.
In Federal Court, three trials are set for early 2019.
With additional cases in the wings, additional truth about what Johnson & Johnson chose to hide will no doubt finally see the public's eyes.