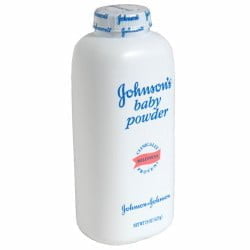 The Mesothelioma frontier continues to build against Johnson & Johnson and their talculm-powder based products.
Late last week a New York State Jury awarded a woman diagnosed with mesothelioma, who contended that her disease was related to her years of use of Johnson & Johnson's talculm baby powder, millions.  The jury found that J&J's talculm powder caused the mesothelioma and further awarded $300 million against Johnson & Johnson in punitive damages.
The award was one of the largest awards in the talculm-mesothelioma litigation to date, as reported by the Wall Street Journal.
Just like Monsanto, where the evidence supporting a causal link between Round Up weed killer and non-hodgkin's lymphoma is significant (as supported by the jury verdicts to date), Johnson & Johnson continues to deny that their baby talculm powder contains asbestos and is dangerous.
Juries across the country have clearly declared they do not agree.